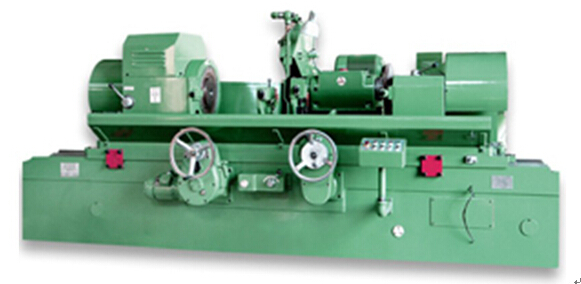 REATURES:
The crankshaft grinder Model MQ8260A is modified on the base of the Model MQ8206 and intended for use in the automobile. tractor, diesel engine works and their repair shops to grind the journals and crankpins of crankshafts.
Structure features:
1) Three different work speeds are obtainable by making use of the belts in the headstock.
2) Cross chucks are used in the headstock and tailstock.
3) Friction coupling is used in the headstock transmission chain for its easy adjustment.
4) Table traverse is operated either by hand or by power.
5) Wheelhead rapid approach and withdrawal is effected through hydraulic means.
6) The wheel spindle being of 80mm in diameter has good rigidity and strength.
7) Use is made of roller ways for wheelhead movement.
8) The bed ways and wheelhead are lubricated in an automatic cycle by means of the oil pump.
Main specification:
| | |
| --- | --- |
| Max. Work swing diameter × Max work length | Φ580×1600mm |
| Capacity | |
| Max. Swing over table | Φ580mm |
| Work diameter ground with steady rest | Φ30~Φ100mm |
| Throw of crankshaft | 110mm |
| Max. work length ground | |
| In 3-jaw chuck | 1400mm |
| Between centers | 1600mm |
| Max. work weight | 120kg |
| Work head | |
| Center height | 300mm |
| Work speed | 25、45、95r/min |
| Wheel head | |
| Max. Cross movement | 185mm |
| Wheel head rapid approach and withdrawal | 100mm |
| Wheel feed per turnoff cross fed hand wheel | 1mm |
| Per grad. of cross feed hand wheel | 0.005mm |
| Grinding wheel | |
| Wheel spindle speed (2steps) | 740.890r/min |
| Wheel peripheral speed | 25.6-35m/sec |
| Wheel size (O. D .× width ×Bore) | Φ900×32×Φ305mm |
| Table | |
| Table traverse per turn of hand wheel coarse | 5.88mm |
| Fine | 1.68mm |
| Table Swivel (taper 18/100) | 5° |
| Table Swivel per grad of scale (taper 1:50) | 10′ |
| Overall capacity of motors | 9.82kw |
| Overall dimensions (L×W×H) | 4166x2037x1584 |
| Weight | Approx. 6000kg |