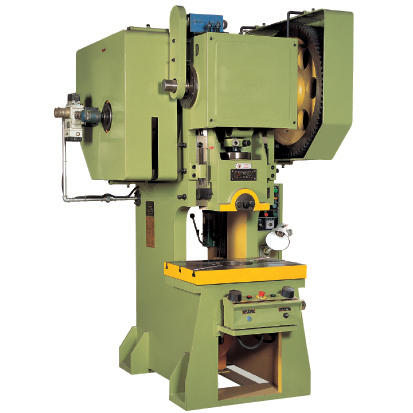 Main features:
1) Adopts horizontally placed crankshaft.
2) Stroke adjustment device mounted on crankshaft.
3) Combined dry type pneumatic friction clutch and brake.
4) Manual shut height adjustment with scale display.
5) JE21-100D and above adopts lifting balance device
6) Safety Duplex valves.
7) Control by PLC with international brand.



JE21-16D

JE21-25D

JE21-40D

JE21-63D

JE21-80D

JE21-100D

JE21-125D

Capacity

kN

160

250

400

630

800

1000

1250

Nominal Force

mm

2

2.5

4

4

5

6

6

Slide Stroke

mm

0-70

0-80

20-120

20-120

10-130

16-140

16-140

SPM

min-1

130

100

70

60

53

40

40

Max. Die Height

mm

170

180

220

290

330

320

320

Die Height Adjustment

mm

30

70

80

80

100

100

100

Between Slide Center & Frame

mm

170

210

250

300

300

380

380

Bolster (FB×LR)

mm

320×480

400×600

480×710

570×760

580×860

710×1100

720×1200

Bolster Opening (Up Hole Dia.×Dpth×Low Hole Dia.)

mm

φ100

φ120

φ220×25

×φ180

φ200×45

×φ180

φ200×45

×φ180

φ260×50

×φ220

φ260×50

×φ220

Bolster Thickness

mm

60

70

80

90

100

120

120

Bolster Opening

(Dia.×FB×LR)

mm

160×160

180×180

220×220

Steel

220×250

Steel

220×260

260×290

260×290

Casting

φ280×220

×320

Casting

φ280×220

×380

Slide Area (FB×LR)

mm

180×200

210×250

270×320

280×320

280×380

420×560

420×560

Shank Hole (Dia.×Dpth)

mm

φ40×60

φ40×70

φ50×70

φ50×80

φ60×75

φ60×80

φ60×80

Between Columns

mm

250

330

410

Steel470

Steel450

630

620

Casting320

Casting410

Motor Power

kW

2.2

3

4

5.5

7.5

7.5

11

Outline Size (FB×LR×H)

mm

1050×1175

×1830

1560×1300

×2210

1620×1450

×2350

1700×1550

×2640

1720×1630

×2720

2200×1850

×3050

2200×1850

×3050

Net Weight

kg

1600

2204

3286

Steel4550

Steel5500

9000

11000

Casting

5000

Casting

6412