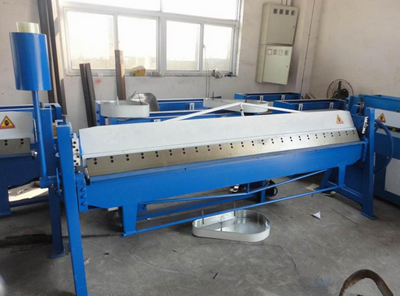 Main functions:
1)The hand folder is easy to operate and adopts a lock structure for the eccentricity wheel.
2)The machine is specially designed for duct engineering. It is light weight, and is easy to move.
3)The bending angle of products is small.
4)The folder of the press fastener lock structure has a good lock. It can fasten and open or shut quickly.
5)The tools are easy to move and suitable for producing all kinds of flange sheet.
Main specifications:
Model

Capacity

N.W./G.W.(kg)

Packing Dimension
(mm)

Width(mm)

Thickness(mm)

Angle

WH06-1.5x1050

1050

1.5

0-150°

190/260

1620x900x1150

WH06-1.5x1220

1220

1.5

0-135°

140/170

1630x480x680

WH06-2.5x1220

1220

2.5

0-135°

580/640

1750x770x900

WH06-1.2x1300

1300

1.2

0-150°

138/171

1600x820x560

WH06-1.5x1500

1500

1.5

0-135°

480/580

2000x760x1200

WH06-1.2x2000

2000

1.2

0-135°

625/735

2500x760x1200

WH06-1.5x2540

2540

1.5

0-135°

810/960

3500x770x1290

WH06-2.0x2040

2040

2.0

0-135°

800/940

2500x770x990

WH06-2.0x2540

2540

2.0

0-135°

850/1010

3500x770x990

WH06-2.5x2040

2040

2.5

0-135°

870/1030

3000x770x990

WH06-2.5x2540

2540

2.5

0-135°

890/1060

3500x770x1290

WH06-1.5x3050

3050

2.0

0-135°

1300/1500

3500x770x1100