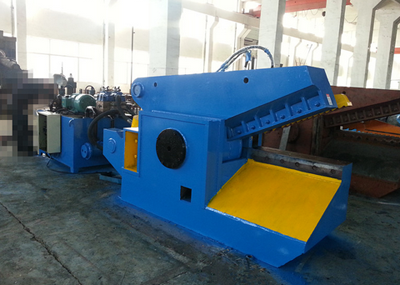 Main features:
1). Hydraulic driving, easy operation, easy maintenance.
2). Work knife edge length, 400mm, 600mm, 700mm, 800mm, 1000mm, 1200mm.
The shearing force has 8classes from 63tons to 400 tons.The shear with over 700mm knife edge can be used to shear waste car.
3). No requirements of foundation bolts for installation, the diesel can be used for driving at the place without power supplying.
Main specifications:
| | | | | | | | | |
| --- | --- | --- | --- | --- | --- | --- | --- | --- |
| Item | Q43-63 | Q43-100 | Q43-160 | Q43-200 | Q43-250 | Q43-315 | Q43-400 | Q43-500 |
| Max shear force(kn) | 630 | 1000 | 1600 | 2000 | 2500 | 3150 | 4000 | 5000 |
| Max press fprce(kn) | 120 | 160 | 250 | 300 | 380 | 380 | 420 | 420 |
| Max blade opening(mm) | 180 | 280 | 320 | 380 | 480 | 650 | 750 | 850 |
| Blade length(mm) | 400 | 600 | 700 | 800 | 650 | 1200 | 1500 | 1800 |
| Working speed(T/min) | 8-10 | 8-10 | 8-10 | 8-10 | 1000 | 8-10 | 8-10 | 8-10 |
| Main motor | 7.5 | 7.5 | 15 | 18.5 | 22 | 30 | 37 | 37 |